Watching movies can be a great source of fun. So can learning about the actors and their quest for success.
The sites below can provide you with incredible information about those in the Movie or TV business. Have Fun!


This is the world's largest movie database with hundreds of thousands of movies, tv shows, videos, video games, and anything you can think of, including the millions of people who make them. Owned by Amazon.com, it truly is a remarkable database that you can use to learn everything you can about your favorite movies.

Below are three searches using IMDb: <!- BEGIN FANCY BASIC SEARCH HTML ->




<!- END FANCY BASIC SEARCH HTML ->

<!- BEGIN FANCY SHOWTIMES HTML ->




Enter your U.S. zip code to get today's movie showtimes from imdb.com.




<!- END FANCY SHOWTIMES HTML ->

<!- BEGIN FANCY BIRTHDAYS HTML ->




Select a day and click "Go" to get a list of celebrity birthdays from imdb.com.




<!- END FANCY BIRTHDAYS HTML ->
---


Keep up to date with the latest movies here. Moviefone is fantastic for looking up showtimes and learning more about what's in the movies. It also include people's reviews.


This website features professional movie reviews from critics and publications all over the country. Each movie gets a "fresh" or "rotten" rating based on the percentage of good reviews (60% is the tomatometer's cutoff point). Check out this fun site!


This is another good resource for learning about movies as well as finding local times at movie theaters.


Find the latest news and reviews at Movies.com.


Yahoo Movies is a comprehensive movie site.


Hollywood.com is a great source for news, movie times, & trailers.


Search for films using the All Movie Guide.


Film.com has news, reviews, commentaries, and trailors.
[Back to the Top]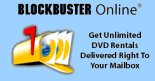 Get movies delivered to your door using the neat service. You pay a certain amount per month and have unlimited movies mailed to you either 1, 2, or 3 at a time. You never even have to visit the store!


The first site to offer the the movie-mail service, this is a great site to rent movies simply over the internet and they come in the mail. This is a great service!
[Back to the Top]
---